Stockport, Manchester Floor Fitters for Wood and laminate flooring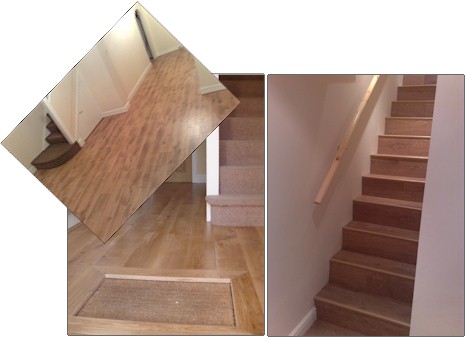 Karndean trained floor fitters
We are a Stockport based floor fitting company which covers the North West area.
Please look at our
locations
page for a fuller list. However please contact us if your area is not listed.
We pride ourselves in quality fitting to make sure every floor is laid to the highest possible standard.
We offer a wide range of floor fitting services. Such as:
Solid Wood
Engineered Wood
Laminate
Ceramic Tiles
Carpet Tiles
Decorative Flooring/Karndean
Most people may think the larger area of the floor is the most important area to be fitted, however in actual fact it is the doorways, edging and borders that really give that professional finish to the overall appearance of the floor.

At Floor Fit Connections we take into account every minor detail whilst fitting your floor covering. Our attention to every element serves to give you the right floor for the right use. It has been known for commercial outlets to have installed the cheapest floor coverings throughout their premises to save money when in fact it ends up costing twice as much because after six months the wear layer has completely worn off, resulting in the floor being replaced. If this same flooring was fitted in a normal household bedroom it would last ten years plus. Our solution to this problem would be a higher density laminate lasting ten years or more in the same environment.
Our specialist knowledge provides you with in-depth advice on selecting the correct floor covering for the correct floor use. Inexpensive flooring is not always the best solution.
Hassle free floor fitting and supplying packages from start to finish
We are not solely a floor fitting service we can supply the whole flooring package from start to finish at competitive prices
Free Measuring and advice service
Supplying a wide range of floor coverings
High quality fitting
All our work is guaranteed for 12 months

Our customers have enjoyed our hassle free service where we source the floor coverings of their choice at a competitive price and bring samples to their home or business, or alternatively the customer may choose to source their own flooring supplies and we simply provide a fitting service.
Karndean Trained Fitters
Karndean design flooring is the latest trend in domestic and commercial flooring. Karndean products allow you the luxury of a natural look to your floor coverings without the inherent downsides. It is also much warmer and quieter to walk on. The range of designs available will exceed your expectations and take your breath away. Karndean products compare reasonably in price to real wood when laid without without added features.
Our fitters are Karndean trained (Advanced)